Website Redesign
Your site can be better the 2nd time around.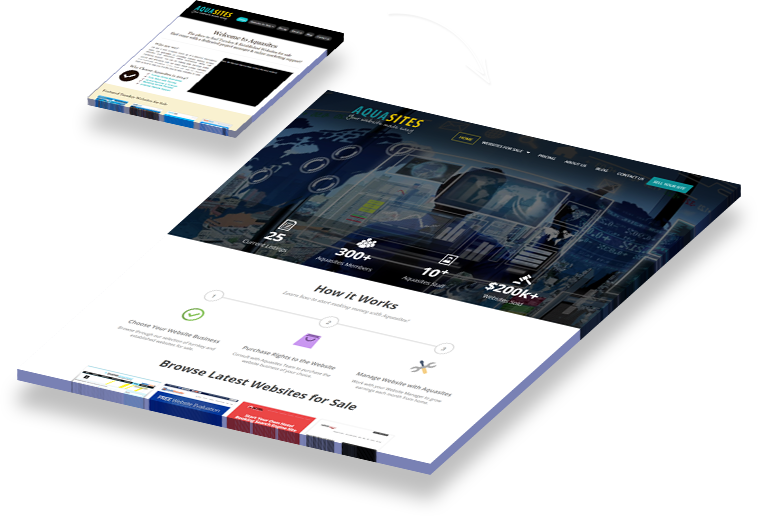 The moment a prospect visits your website they form an instant opinion about your business and decide if they want to do business with you or not. Britton Creative – Tampa has a proven track record of improving our customers' website performance after a website redesign, which helps them attract more customers and grow their business.
Investing in a professional website redesign with Logical Web Media will help you:
Increase your website conversions – Increase lead generation with a website redesign. The more website visitors you convert into leads the less you spend on advertising and the higher your return on investment.
Establish instant credibility – Gain instant credibility the moment a prospect arrives on your website, that they feel so connected to you and is confident that you can solve their problem, that the decision to do business with you is an easy one.
Engage visitors with compelling content – Eliminate the need for your website prospects to look further, with a clear and concise marketing message that resonates with your visitors.
Generate leads – Boost your lead generation, by coordinating all your marketing efforts so prospects are directed to powerful pages on your website that engage them and get them to take action.
Increase sales – Your website is a powerful marketing tool, use it to nurture and close more sales by following up easily and effortlessly with marketing automation.
Increase your return on investment – Convert more visitors into leads with a strategic call to actions and conversion tactics.
Reduce your advertising budget – Stop turning potential customers away with, get a website that turns more visitors into leads and customers.
Improve your website performance today! For more information about how we can help you get started with Website Redesign contact us today for a free quote and consultation.
---
When you pull up your business website and look through it, you may feel like it fails to properly support your business goals. If that type of feeling has been nagging you for a while, it's a clear sign that your site is in need of a redesign.
Whether the specific reason you don't feel confident in the design of your business website is that it's too cluttered, the design looks old or there's another issue that you feel is holding it back, the good news is Web Strategy Plus can help.
Our Website Redesigns are Much More Than a Fresh Coat of Paint
While we guarantee that you'll be extremely happy with the way your website looks once we're done redesigning it, we want you to know that our process involves much more than simply creating a site that looks nice. Because we understand that the goal of your website is to generate more leads or sales for your business, every decision we make will be focused on that goal.
As a result of putting that focus at the core of our redesign process, the end result of our work will be a highly optimized website for your business. Since getting targeted visitors to your website through various marketing channels can require a significant amount of effort, you won't have to worry about those potential customers being wasted. Instead, your website will be carefully designed to get visitors to take the action you desire.
The Key Benefits of Our Website Redesign Services
Since our website redesign services are driven by business goals, we provide five key benefits:
1. Professional Brand Image – As soon as someone goes to your website, you want them to feel good about what they see. Thanks to everything that we put into our redesigns, visitors will instantly trust your website and feel completely comfortable navigating it.
2. Great User Experience – In order for visitors to stay on your website and take the action you want, they need to have a positive experience from beginning to end. Because visitors can leave at any time, we ensure that issues like speed or inconsistency aren't issues that cause visitors to hit the back button.
3. Consistency Across All Platforms – Because people will access your website from all kinds of different phones, tablets, laptops, and desktops, it's important for your business website to look just as good on a 3.5″ screen as it does on a 27″ monitor.
4. Optimized for Search Engines – While there are many components of a successful SEO strategy, earning traffic from Google and Bing starts with having a website that has all of its on-page elements properly optimized.
5. Boost to Your Bottom Line – As a result of focusing our website redesign work around actual business goals, our clients regularly experience a noticeable boost to their bottom line thanks to their newly redesigned website.
Get the Website Redesign Your Business Needs
If you want to have a website that's going to work for your business and accomplish the goals your business needs in order to thrive, contact us today to schedule a free consultation.