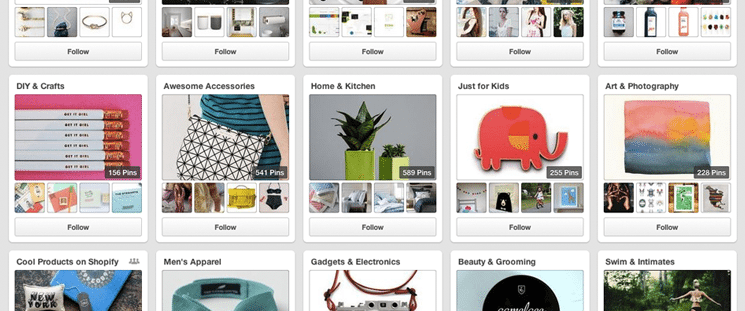 5 Data-Driven Tips for Smarter Pinterest Marketing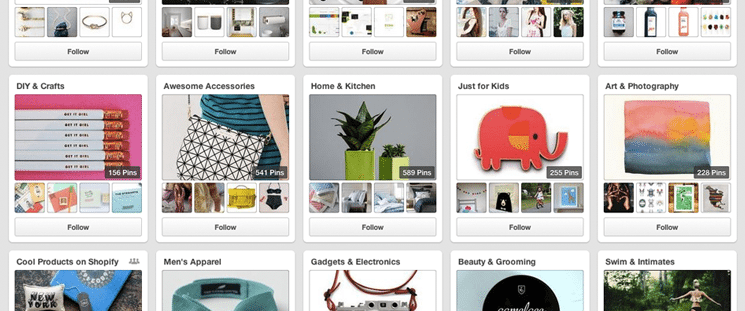 Pinterest and ecommerce are like peanut butter & jelly. You're selling things people want, Pinterest is a place for people to pin things they want. You have product photos, Pinterest loves photos. It's no surprise that in 2012 Shopify found that the average order value from Pinterest traffic was $80, double that of Facebook.
We recently conducted a Pinterest analysis of our own. While our data set didn't include revenue, it did reveal some interesting (and applicable) insights on Pinterest user behavior. For example, we found that:
Pinterest is dominated by women: 92% of all pins are made by women
Pinners keep on pinning: 84% of female users are still pinning in their fourth year of using Pinterest
And quite a bit more…
In this post we're going to share five data-driven tips for smarter Pinterest marketing.
Tip #1: Tailor your content for the audience
Pinterest has a uniquely loyal and engaged user base, but only around specific subject matter. Pinners are pinning on niche topics. The Big Three categories on Pinterest — Food & Drink, DIY & Crafts, and Home Decor — generate a massive chunk of the activity:
This means that for a brand to be successful on Pinterest, it has to align with the interest of the Pinning audience. Pinterest is different than other platforms, and this can be to your advantage or disadvantage.
An excellent example of a brand leveraging Pinterest for its unique advantages is Lowes. Lowe's"Build It" board showcases DIY construction and craft ideas and is the most followed board on Pinterest:
This is a perfect example of tailoring content to match the interest of users on this platform. Instead of trying to make all of its marketing messages and product offerings work on Pinterest, Lowes focused on using Pinterest to tap into an audience they couldn't otherwise access.
Tip #2: Follow the pinning pattern
Pinterest is a highly-engaging discovery platform that is alive at all hours of the day. Across Pinterest's top five categories we see consistent patterns of pinning throughout the day. Little pinning happens at night, steady pinning throughout the day, and a spike in the evening. 32% of all pinning happens during the core part of the work day, from 10am – 4pm. 18% of pinning happens in the evening, 9pm – midnight:
What makes this data particularly interesting is when we look at it compared to other social networks. Facebook traffic falls steadily after 3pm, as does Twitter activity. Pinning activity is distinctly different, showing high activity when the other major platforms are tapering off.
Tip #3: Pay attention to season
Pinners pin throughout the day, they also pin throughout the year, showing distinct seasonal trends. Below are a few examples:
Pins to holiday categories start rising in August, gardening pins start increasing as early as December, and health and fitness trends are on the rise in the early part of the year. If you want pinners to care about your boards, pay attention to shifts in the "conversations."
Shopify is a great example of this. Its boards show a good mix of top categories and also special tailorings to the summer season and holidays.
Tip #4: Create pinnable content
Etsy is another popular brand on Pinterest. Yet only 8% of Etsy pins come from the on-site pin it button. Instead, we found that 67% of Etsy pins are coming from the Pinterest bookmarklet button. Turns out that on-site optimization or awesome brand boards might not actually be the secret to success, it may have more to do with creating naturally pinnable content.
What makes something pinnable? That's a question that Curalate has been working hard to solve. They've found that factors like color, lightness, saturation, and aspect ratio have massive impact on what gets shared on Pinterest.
Tip #5: Pay attention to what's working on Pinterest
While the average female user posts 42 pins in year 1, by year 4 she is up to 152.
This should be enough to grab the attention of any ecommerce retailer. If your target market overlaps with Pinterest users, make sure you're pin worthy. Because Pinterest won't be going away anytime soon.
In fact, Pinterest seems to be making moves to tap into the massive search market. In April Pinterest unveiled its new Guided Search feature. This represents a major shift for Pinterest as it evolves from a place to store things you like into a discovery platform.
In addition, Pinterest also recently announced a partnership with Shopify making Rich Pins automatically enabled for Shopify merchants bolstering its ties to ecommerce.
In other words, all signs point to Pinterest playing a growing role in driving ecommerce revenue.
Now, over to you – What tricks and tips have you discovered that are working for you on Pinterest?
And if you liked this post make sure you check out Why and How You Should be on Pinterest, Even if You Haven't Joined Yet and 7 Ways to Drive Sales and Traffic with Pinterest.
---
About the Author: Janessa Lantz is the Director of Content Marketing at RJMetrics. She helps marketers free themselves from guesswork, assumptions, and opinions and figure out how to use data to make smarter decisions. You can find her on Twitter @janessalantz.